Ref. No. 3453: For sale is completely furnished studio with great location at the seaside town of Ahtopol, Tsarevo Municipality, Bourgas. Ahtopol , Burgas property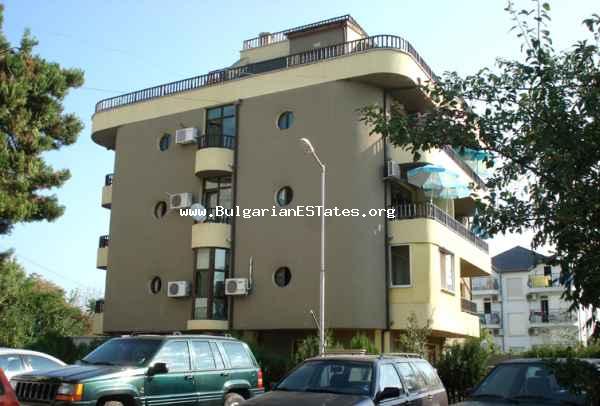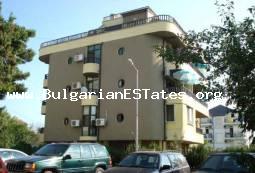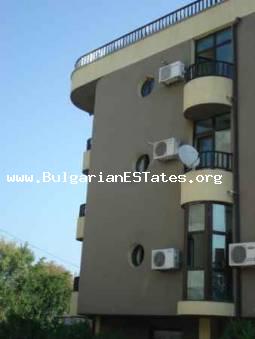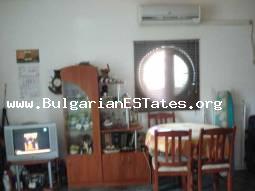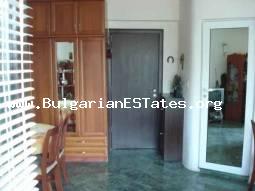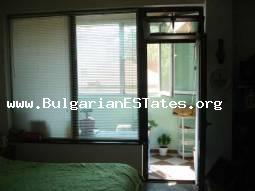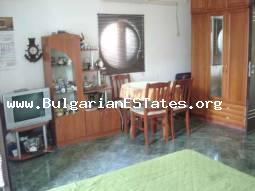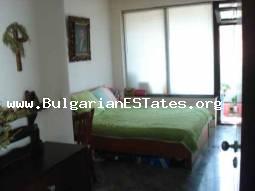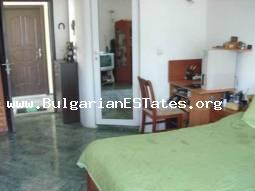 Key Features
€ 24,900
Ref. No.:
3453
Deal type:
For sale
District:
Burgas property
Town / Village:
Ahtopol
In categories:
Studios
Living area:
36.00 sq. m.
Bedrooms:
1
Bathrooms:
1
Floors:
4
Add to bookmarks
Bookmarked

Map location
Full Description
Bulgarian estates LTD offers studio situated at the first floor of four-storey building only 100 m from the center of the town and 5 minutes from the beautiful beach. The condominium is built in 2008 and has authorization for use (App. 16). The dwelling is for sale with the furnishing from the photos. At the terrace there is a kitchenette with an oven and a refrigerator.
The studio offers 36 sq. m of living area. The property is suitable for permanent living.
Ahtopol is a town and seaside resort on the southern Bulgarian Black Sea Coast. It is located on a headland in the southeastern part of Burgas Province and is close to the border with European Turkey. It is the southernmost town on the Bulgarian coast. It is situated both on the Black Sea coast and at the foot of Middle Strandza Mountain. The cooler Mediterranean climate is strongly felt here and that attracts a lot of tourists into the town not only during the summer months, but all over the year.
The picturesque river of Veleka is running only 4 km south of Ahtopol.
The river comes from the very heart of Strandza Mountain. The combination of sea side and river coast, the specific fauna and flora of the region are really impressive and can satisfy all the tourists eager for adventures into desolated places among the virgin nature.
The archaeological excavations in the region of Ahtopol show life traces from different periods - the Antiquity, the middle Ages and the Renaissance.
Some very ancient coins were found near the town, including emissions, coined in Mexico, Brazil, Argentina, and from nearly all European countries.
Medieval sources mention Ahtopol as a lively merchant port where many Byzantine, Italian and other ships arrived. In the 19th century, it was still a thriving centre of fishery and overseas trade, with many locals owning their own ships and selling goods all around the Black Sea and the Mediterranean. Viticulture was also well-developed.
Ahtopol has been burnt down and devastated by sea pirates many times, with the most recent fire being in 1918, when the town was almost destroyed. Remains of the town's fortress (reaching up to 8 m in height and 3.5 m in width), the 12th-century monastery of St. Yani and a fountain with a carved horseman are the only traces left from ancient times. Another landmark is the Church of the Ascension from 1796.
Ahtopol is perfectly located 13 km from the municipality town of Tsarevo and 78 km from the city of Bourgas.
Facilities
polyclinic

tennis

sport

sauna

beach

kindergarden

bowling

billiards

library

telex

telephone

restaurant

poste

internet

fax
hairdresser

fast food

bar

water-ski
Location:
On the Sea
,
In hunting area
,
On river
,
Near lake
,
In fishing area
,
In historic place
,
In rural countryside
,
In town
,
In mountain
,
Ecological region